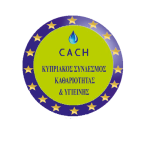 Anaplasis has become a member of the Cyprus Association of Cleaning & Hygiene (CACH). CACH is a non-profit organisation founded in Cyprus in September 2011. The Association was established in order to upgrade, acknowledge and consolidate the profession in areas of cleanliness and hygiene in line with the European standards.
Since February 2012, the Association is officially a member of the European Federation of Cleaning Industries founded in 1988 based in Brussels.
The European Federation of Cleaning Industries is a representative of the cleaning industry organizations internationally and is an accredited member of the European Commission. There are 19 other European countries in the European Federation which have their own associations and represent their members at national and European level.
Cyprus is the 20th country which was introduced by the Association as a member of the Federation.
The Association's website is posted on the official website of the European Federation of Cleaning Industries (www.feni.be).